Feb 3, 2019
4
6
0
Ride

M3 N54
Hello everyone, i'm new on this forum, from Georgia
.
I want to share my knowledge to everyone who is interested.
I'm starting project, which is very important for me, i'm spending a lot of time and also
on it. English is my second language so please don't be strict.
I bought M3 e92 DCT LCI Competition with engine damage and decided to swap N54 engine.
It had some exterior aftermarket parts SeibonCarbon trunk, Front bumper Carbon lip, rear bumper diffuser.
Now i'm collecting parts and i have already bought this:
1)Dct transmission from 335is.
But 335is transmission had damaged clutches because of wrong ecu tune clutches was slipped and all of frictions was worn out. I Moved whole clutch basket from my m3 transmission into 335is trans it was in very good condition.
2) Ebay 17T Turbos 11 blade Gtx style.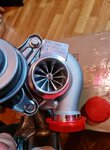 3)Vrsf 7.5 Race Intercooler
4)Vrsf 2 inch inlets stock location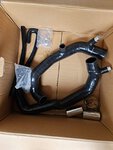 5) Ebay OCC
6) M4 Dct Flywheel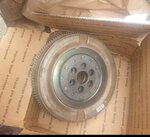 7) Ebay Charge Pipe with stock blow off ports
8) Air scoops
9) Gplus 19 row oil cooler kit
I have to do custom bracket and install this cooler on driver side for engine oil cooling, because m3 dct have transmission oil cooler in stock passanger side.
10) Engine oil thermostat lower temp.
11)3 inch downpipes modified to v band no more restriction.
12) Because of 6 bolt n54 engine, i bought wrecked car on Copart auto auction, Tx-houston.Sorry for somebody's loss.
As it seems from photos it has aftermarket aluminium charge pipe, upgraded inlets, but i can't see which brand is it because of photos are very bad quality... It needs 2-3 month before car will be delivered to me by ship
i could go crazy, before this time passes.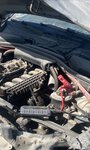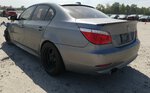 For now this is what i did, i will update as soon as i got new parts or do something with car.
Update, Finally car delivered to me which i bought on auction, Tested engine Oil pressure ok, Cylinder compression normal. But i decide to replace everything Main bearings, Rod bearings, Piston rings, cylinder head gasket, Crankshaft front and rear seals. Valve seals and absolutely everything what is possible.
Bought Mmp silicone turbo outlet used.
This things needs a lot of time also money, i will update thread as soon as i do something new with car.
Update
Car started and runs fine i will post videos and photos soon
only left servomotor to work, m3 dme outputs signal to servomotor, I'm gonna flash my Dme to ikm0s (1M) i hope this will make sevomotoe work.
Servomotor fixed controlling from Juction Box Like 1m.
Also Flashed Ikm0s Rom and M drive Started working.
Now making ready for Tcu tune Thanks to
@John
Herrera Helping me about DCT Tuning to hold power and avoid clutch slipping.
Also Changed VO to euro product and recoded transmission + Dsc. Feels better than it was before.
Today I took some photos.
Car is on Original paint, Only front bumper is painted Because of it had straches.
Main wheel setup
ESR SR04 glossy black
R18, rear 10.5j et22, front 8.5j et30.
Tires: Michelin pilot sport A/S 3+, front 245/40 rear 285/35 (My favorite tires for daily).
Last edited: