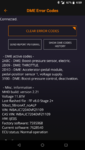 This is the errors I get, can does that throttle blipping when started. Undriveable.
Have reset throttle adaptation. Have waited sufficient time.
Motiv no response as of yet (weekend)..... There is heaps of people I've read with exactly same issue but no where has a fix....
Green into 16 (small black)
Orange into 25(large black)
Yellow daisy chained into 10 (large black)
V8 stage 2+ flashed with motiv flex fuel ticked.
Changed multiple grounds
Mhd shows 4.05 volts to the ECA
Have flex fuel map pack (mhd)
Have ethanol map pack (mhd)
Anything I'm missing?
When I remove the green and orange wire car runs and performs perfect.
Do i flash something particular before installing the box or what?
Last edited: