Aug 27, 2019
86
66
0
Ride

2011 135i N55 DCT FBO
It's time I finally get together a build thread of my bimmer. It's not the most fascinating, the fastest, nor the coolest, but it's mine. I want to show it off and definitely keep building it. (Who wants to send me a big turbo?)
This is my third BMW so far. Still have a 1988 735i, and sold my 2004 e46 330ci 9/16/19
My dad has 2 e90 335i's, 2 e46 328i's and an e46 325i so far. I do the mods and maintenance on all of them.
As I add to this build I'll update, as well as post links to DIYs that I plan to write up.
Enjoy
2011 135i with a DCT and I think every available option. It's Montego Blue Metallic. Mid 2010 build so it has an N55 engine but pre-lci lights, combox, and n54 hpfp.
It was traded in by a guy who was going to turn it into a track car and then found out his girl was pregnant.
Here's the very first photo I took, anxiously scribbling my signature to finally bring her home:
And after I signed:
Car had an MHD tune (not sure of stage), Carbon fiber kidney grilles, a red tow hook, tinted side marker lights, VRSF catless ceramic costed downpipe, muffler delete, M3 cowl with BMS filters, and BBS RS-GT forged 2 piece 18x8 +35 wheels with bald winter tires. Oh and the factory wheels with brand new tires
Every mod and hit of maintenance to the car since I've done myself.
BMS intake:
Blew the stock charge pipe like 2 weeks after having it:
MHD stage 2+, VRSF 7" HD intercooler, GGB FV+, VRSF aluminum charge pipe and elbow, plus all silicone couplers:
At some point I did a combox retrofit to have bluetooth streaming but apparently didn't take pictures, or I couldn't find them.
1000w alpine type S, originally in a basic sealed box and then a fitted fiberglass from Visual Ice. Definitely recommend them for price. Added myself a remote bassknob so it can be quiet when I want, and obnoxious if I so choose: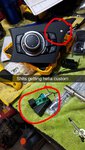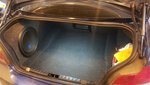 Meatier grip was next. Apex Racing 18x8.5 et45 and 18x9.5 et 52 wrapped in continental dWS06 235, 265. Managed to pick these up for 1300$ as a set, and shortly after sold my bald tire bbs for 1500$. I loved the look of the BBS for their style color, and lip, but they just didn't fit right: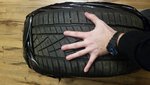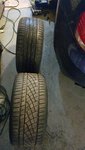 A few shots here and there:
1st autocross
First Drag Race
My girlfriend had to get a 328i
My best friend is a mopar guy
Boost gauge. Not sure why exactly I installed this, I know it's a bit tacky but I like it and it's nice to not have to boot up MHD or anything else. From Prosport: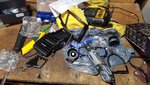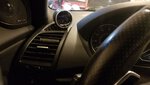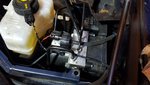 Boost gauge helped me see dome missing boost here and there so I got a test kit and found all of my couplers to be slightly leaking by and fixed them by tightening and adjusting. Highly recommend Dave at turbo boost leak testers, very responsive and helpful: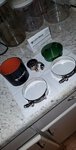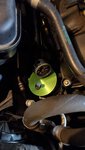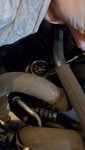 Changed from pre-lci to Blackline taillights for a drastically more modern look:
The real fun, 2.81 rear end, M3 shifter, M3 cluster, and M3 GTS transmission software!:
3/20/20:
His and hers wash and wax. Her 2012 328i coupe. Ibiz car wash, Car Guys wax. Pretty darn glossy. And a little paint correction with compounding and polishing where needed.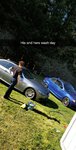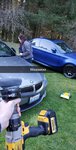 Last edited: