Oct 24, 2016
1,152
1,202
0
45
Ok, guys, I know it has been a while but we finally got this finished and the results are basically exactly what we rated this unit at.
A drop in no-core-charge, no-lead-time 600WHP upgrade!
Mods are as follows:
VTT GC
Dorch Stage 2 HPFP
VRSF Catless downpipe
Dinan intake
Custom MHD tune by Wedge tune by Steve B.
E50 fuel
M-performance exhaust
Results were 600WHP/600WTQ with near-stock spool seeing 500WTQ by 2800-2900RPM on a NON-LOADED dyno, expect 200-300 quicker on the street! Stock spool, 600WHP capability. The dyno lost signal for a second which is why the drop out is there, but you can see everything is smooth in the log (link below).
We initially tuned the car on BM3 using Cary Joran for 93 octane results as Cary is our go-to tuner, but 2020 saw him with a schedule he just could not keep up with, and the flu hit him and his family hard, and left him behind the 8-ball. Since he had taken this job on a favor, the customer requested if we could move tuning elsewhere just so we could get it done.
The guys at Wedge (Ken, and Steve) stepped in quickly and knocked the tune out for us in about 20 revisions. There were some tricky things to figure out as this is a new Rom version but Steve was up to challenge and at the end of the day we ended up right where we wanted to be 600WHP/600WTQ. This also was not a one-trick pony with one run with elevated time or boost. Through-out the day today as Steve dialed it the car hovered around the 590WHP mark until it brought it home with a consistent 600WHP even when heat soaked.
Peak boost was around 28psi, running about 27 to redline 18 degrees of advance.
The log is here:
https://datazap.me/u/vargasturbotec...7-19-36-37-38-39-40-41&solo=16-17&zoom=60-125
All in all, we are extremely happy with the GC, and the B58 in general. I want to say we have put about 200+ dyno pulls on this turbo, and we still have more street testing before we hand it back off to the customer. Look for 60-130's early next week.
We expect these to ship end of March/April time frame.
Now
is the time to pick one up so when they come into stock we can ship right away! You can pre-order here: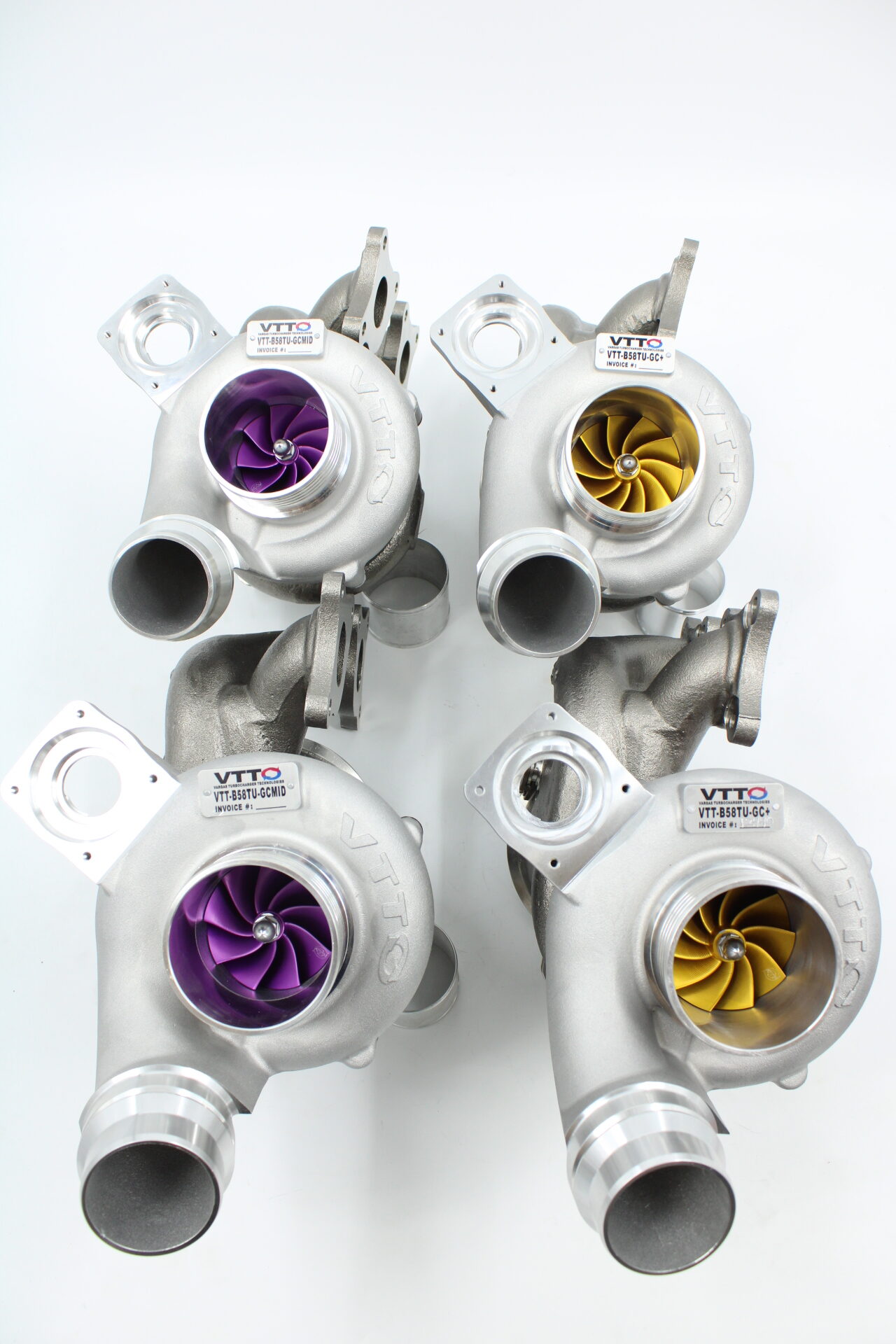 Support power level GC Stock-600WHP GC-MID Stock-650WHP (TU ONLY) GC+ Stock-800WHP Ready to take your B58 to the next level? Don't want to deal with core charges, long lead times, or restrictive factory housings? Look no further! VTT has you covered with our 100% new casting B58 "GC"...

vargasturbo.com
Big thanks again to
CaryTheLabelGuy for the 93 tune, and really trying to get this done, but just being in such high demand he didn't have time. We appreciate all the hard work!
Dorch Engineering for the HPFP
WedgePerformance for stepping in, and getting this done quickly for us.
MHD Tuning for a great tuning platform!
It's nice to have great people to work with in the community!