I posted this on the "other" forum but seems there's a lot of discussion about custom tuning here so thought I'd repost here too.
I've defined some extra tables that would be useful for people that want exhaust burbles that don't use MHD, or people like me that use MHD but like having full control over their custom tune or want the ability to "send it" with the exhaust burbles.
I'll upload the XDF definitions for:
I8A0S
IJE0S
INA0S
The INA0S XDF is a cleaned up version of my personal XDF. It's just the public one that also has the full throttle correction definitions added and a few other small changes.I'm open to any feedback or bug fixes, defining tables between multiple ROMS leaves plenty of room for copy paste errors. I've tested the XDF tables for INA0S since that's what my car run on. Someone with I8A0S tested the burble tables and said everything worked well.
Here's some values for a guide. These are the only three that really need changing. The duration tables define how long between taking your foot off the accelerator and fuel injection being cut. As you can see the stock values are very short for most cars, but for the Z4 they were increased to give us a more sport exhaust sound.
The timing table is not something I fully understand, I read the MSD81 technical specification which has a section on "minimum ignition angle" and found that this is the table responsible for the ignition timing during overrun but it's not as simple as just targeting the angle entered in the table, it is influenced by other factor and differential tables. The axis in this table is mg/stk, our engine sits firmly in the 75mg/stk area during overrun so just work on that area.
Stock values for INA0S car (335i)
Stock values for INA0S car (Z4)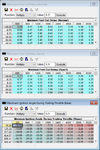 My current values as a starting point, somewhat comparable for the MHD "medium" setting.