Oct 21, 2018
29
93
0
Ride

E92 335i
Hey guys Phil from Spool.
Just want to share what Spool Performance has achieved on the B58 Platform as of 11/6/20
So to start off this is a 2017 BMW 340I with M package. It was a clean, stock car it had about 37k miles when it was picked up.
***Mods***
FX-180
(Spool)Stage 3 LPFP
Turbo Kit (6766 Precision T4 Ball bearing )
1 Piece Driveshaft
Currently running Toyo R888R 275/35/18
E50
The car is Tuned on MG Flasher with the help of David Shoup Tuning
When I first looked at the B58, I was not impressed. I felt as if it was just another BMW that would leak oil, coolant, and every other fluid imaginable. Also, I felt as if the 3 Series lost its touch and that these cars felt very electronic and didn't give me the drivability our AMGs did. (But different leagues). We had to pick one up for development and testing so I started looking for one just for the business. The moment I test drove one, I was taken back. I actually enjoyed driving the car, and it actually felt like a driver's car. I drove the B58 directly from the dealership to our shop @Eurochargedhtx (on Instagram), and we immediately started designing and slapping on some go fast bits for the car.
The B58 was surprisingly easy to work on. The technician who dropped the motor had it all down within a couple of hours and was astonished at how BMW designed this motor and how easy this is to work on! Gone are the days when you had to dread working on BMWs in my opinion. The high pressure pump are not in a PITA location nor is an ECU mounted onto the underside of the intake manifold [yes N55, that's you]. We designed and fabricated a top mount Kit with a 6766 turbo, added an FX180, Stage 3 LPFP, one piece driveshaft and some sticky rubber.
I was impressed by the stock B58 but I fell in love with my big turbo B58. The first few days had me very confused actually when I didn't get that misfire I was waiting for , coils ready in my left pocket !! This car has not thrown a drivetrain malfunction and I'm still bewildered at how a BMW can be so RELIABLE.
The car, when you are not in boost, feels like a normal stock car, and you would never know that it has 800HP under the hood. The car feels like something else when you are on the highway in sport plus it opens up, and you have a very noticeable difference in the way it drives. The car has a much better spool compared to N54/N55 and comes into full boost around 3700 rpm, and keeps building I guess owing to how lean the new BMW DI motors run; the vehicle does not fall on its face at any time through the power band, It becomes happier. The car enjoys higher rpm the 8Spd rips through gears in no time. The F-series has always felt very electronic and not a driver-focused vehicle, in my own opinion, but when you have this much power, it's nice to let the computer take over and give you a smooth transition. The sounds of the turbo's spooling do bring a smile on your face every time and put that driver orientation back just a little. The car still has its stock exhaust, as I wanted something a little different from my other builds and wanted a sleeper and it sounds fantastic for what it is. You can hear the car open up and breathe under WOT, and it's not obnoxious at all. My goal with this F30 was to show you can be fast and not sacrifice any creature comforts. After putting almost 6k Miles on this car in the last two months testing new products for Spool, I've really come to love this Platform; the car (Knock on wood) has given us ZERO problems; in fact, we made 711WHP on stock plugs that had 40K miles on it. All fluids in the vehicle have been changed to Liqui Molly, as they are a huge sponsor to this build.
All in all, I've come to love this Platform and am extremely excited to keep pushing the B58 Platform and look forward to overcoming new hurdles.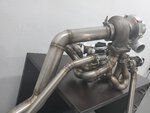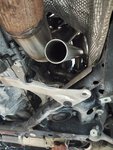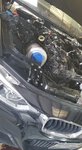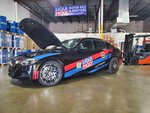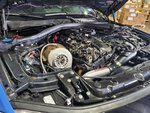 Last edited by a moderator: