Feb 8, 2018
23
14
0
Ride

Focus RS, Impreza RSti
I haven't posted for a long while, but we have been developing and testing an all-new N55 ball-bearing turbo for N55 called the STX 76R.
What it is:
It is a stock location complete turbo replacement for the N55 with a dual ceramic ball-bearing cartridge which some may consider a "stage 2" sized turbo. We designed and developed all-new housings, which means it is
not
simply a remanufactured OE turbo with larger wheels. The turbine housing is an advanced twin-scroll design with a new cast manifold. The turbo is also stock-location meaning it is designed to fit like an OEM turbo and all other bolt-ons designed to work with the OEM turbo, will also bolt-up to this turbo.
Turbo Specs:
- Compressor wheel: 58mm inducer, 76mm exducer, flows ~67 lbs/min
- turbine wheel: 60mm inducer, 55mm exducer
- compressor housing, new casting, stock-style
- turbine housing, new casting, high-performance twin-scroll, +sized A/R vs stock
Car Under Test:
This data is from a 135i with PWG-style N55. We took a stock car with the base MHD map, measured performance, added basic standard bolt-ons, measured again with the MHD 2+ tune, and finally added the STX 76R and measured again after tuning for the turbo. The idea was to take a stock N55 car running pump gas and a conservative amount of boost, and add a minimum set of bolt-ons to support a turbo, and then add the STX 76R.
Modifications:
"Stage 2" upgrades: larger front mount intercooler, catless downpipe, charge pipe, inlet, and MHD stage 2+ tune. Everything else was stock including fuel pump, ect.
Post turbo modifications: all of the above + STX 76R + tune
Tune:
The turbo tune was done by Zack at 22rpd on their DynoCom dyno with pump gas and ~15 psi target. Zack is a long time BMW tuner well-known for high-power turbo builds on E36 and E46 cars.
Result:
Stock: 310 whp, 307 ft*lbs
Stage 2+: 366 whp, 436 ft*lbs
With STX 76R+ turbo: 429 whp, 416 fr*lbs
Conclusion:
The turbo basically accomplished what it was designed to do, respond quickly, and make much better power than the stock turbo. With a few boltons and the SteamSpeed STX 76R, a stock N55 car made another 120 whp, or around 40% more power. As compared to the car with boltons, the car made another 60 whp, or around a 20% gain. Our turbine housing also made a nice torque and powerband. Our new housings also allowed the powerband to hold on much longer to red where you would normally see turbos with stock housings fall off.
Furthermore:
As we continue testing on other cars, we found that fueling was limiting this setup, and adding a Walbro 450 LPFP, we were able to see around 450 whp and 450 ft*lbs on pump gas and 16 psi, so we recommend doing that upgrade as well as the basic stage 2 stuff.
Next up, we'll push it to the 20-25 psi range on pump gas to hit closer the turbo's peak flow. The turbo would flow the most around 25-30 psi, but that will more than what pump gas can provide.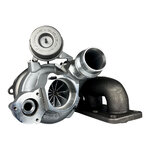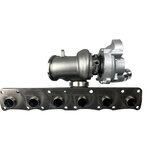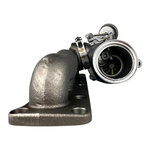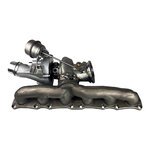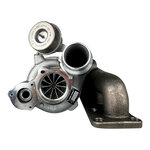 [reserverd for pictures]
Last edited: